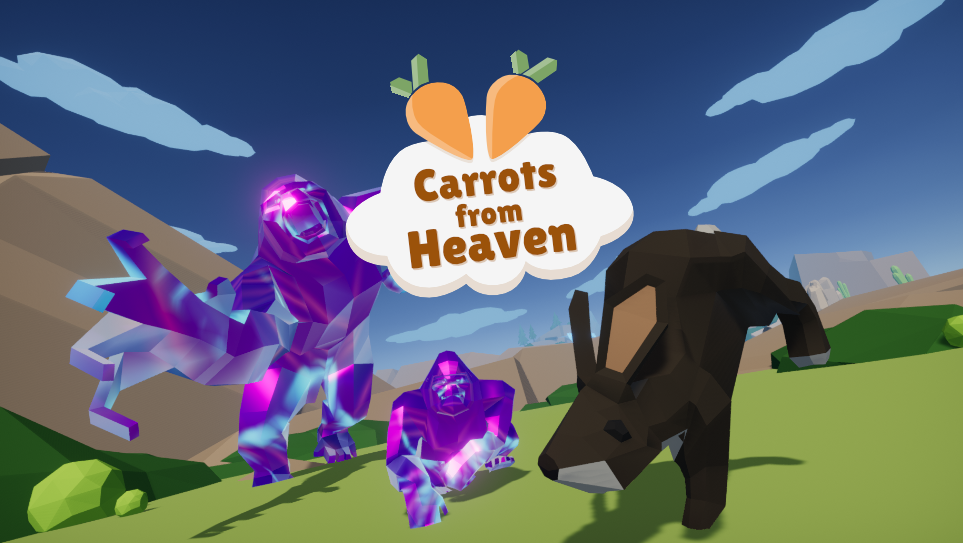 Carrots from Heaven
A downloadable game for Windows, macOS, and Linux
Carrots from Heaven
You are a rabbit, one single rabbit with the ability to cure the world of the evil miasma with your carrots, super powered carrot power. Can you defeat all the waves of angry possessed gorillas?
Controls:
W/A/S/D to move around
Hold left mouse to shoot
Credits:
A game by Snuti

Asset packs used for the models:
Made in Unity 3D
Download
Click download now to get access to the following files:
CarrotsFromHeaven-1.0-win.zip
26 MB
CarrotsFromHeaven-1.0-linux.zip
29 MB
CarrotsFromHeaven-1.0-mac.zip
26 MB
Comments
Log in with itch.io to leave a comment.
This was a lot of fun to play around with!!!

Try beating my pro highscore of 34736! 8)
i downloaded it because jimmy vegas did it
Thank you for letting us know, didn't know he made a video. That is awesome! 😁 Hope you enjoyed the little 🥕🥕 experience !
Hey, I finally found some time to give this game a go! :)

First of all, really nice game and big plus points for featuring rabbit and carrots! <3
It has some nice polishing touches but the only thing I was missing was to skip to the next wave quickly. Playing it for the 1st time is ok but trying it over and over takes time to go over starting waves fast.
Good job! Can we expect updates?
So happy you gave it a try! 😁 Glad the carrots were adequate 🥕🥕🥕😅

Yeah, very good point, as efficiency is key! Thank you for the feedback, and yes there most certainly will be updates and a finished game coming! 😊🎉
Thank you buddy! Glad you enjoyed the theme 🥕🐰😂

We actually have a big update ready, just… uhm, almost!! 😅 ...soon! And we've added in a wave skipping like you've requested. 💪😁🥕

(sorry for the late response 😭)